Add a little touch of whimsy, fun and humor to your bathroom décor with these 12 free printable bathroom humor prints. Funny, light-hearted and free!
I'm sharing something brand new here on the blog today. Something totally out of character for me. I hope you'll enjoy the light-hearted humor as much as I did. Sometimes I find things funny. I mean really funny. And if I think it's funny today, it'll still be funny the 100th time I hear it.
Reminds me of when my son Brandon was a little boy. He used to ask, "Do you know why the chicken crossed the road?" Of course, the answer was "To get to the other side." BUT, he would change up the riddle to use different animals. Such as, "Do you know why the turtle crossed the road?" He thought it was funny every single time he told the joke.
12 Free Printable Bathroom Humor Prints
Because once you get started on something, you can't just stop at one, right?! Kind of like eating just one potato chip. It's just not gonna happen. So, I've put together a collection of 12 free printable bathroom humor prints. Print out one or print out all twelve and change out the signs periodically.
This just gives you a little insight into my sense of humor, I suppose. Which, by the way, my family insists I am not funny. But, I don't care! When I find something funny, there is no changing my mind that it's not funny. And I do wholeheartedly believe I'm funny!
More Bathroom Humor
Recently, I was browsing Etsy looking for an embroidery pattern for a zipper pouch I wanted to make for our daughter when I stumbled across this embroidery pattern for the bathroom.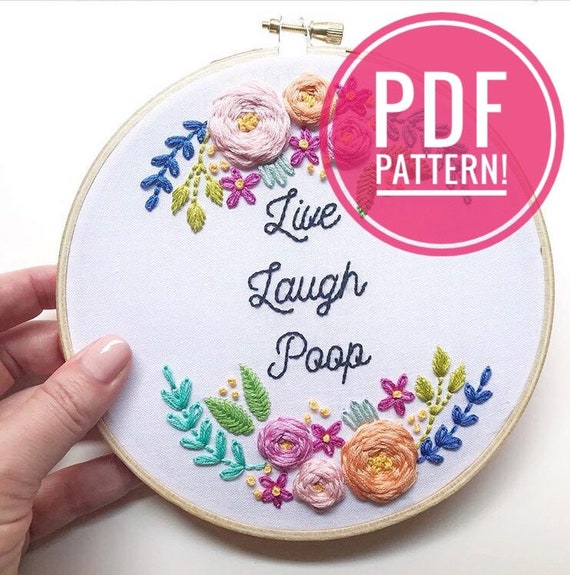 Honestly, I was stunned. It actually took my mind a moment to catch up with what I was seeing. Do you know that feeling? It happens to me all the time!
Well, I didn't really want to embroider anything for my bathroom, but it did get my curiosity up. There's also plenty of bathroom humor designs on Etsy, such as:
Please note that although the pictures show the prints in beige or tan printing, the designs all have black print. I like to use the beige prints in my home, but I figure the majority of people will probably prefer black print.
Download Bathroom Humor Prints
Like most free printables here on The Birch Cottage blog, this set of 12 bathroom humor prints is available exclusively to subscribers of The Birch Cottage newsletter. You can subscribe below:
My Favorite
I'm not sure which is my favorite actually. I like them all for different reasons. But, I'd have to say the "You never know what you have until it's gone – toilet paper, for instance" has gotta be in the top 3 favorite bathroom humor prints. Oh, yeah, and then what about "Be the Change!" Now, that's funny, right?!
So, what's your favorite bathroom humor print? Just leave me a comment below or come on over to Instagram and leave me a comment there!
More Free Printables
If bathroom humor is not your thing, or maybe it is, but you'd like more free printables, then you've come to the right place. You'll find all sorts of free printables right here on The Birch Cottage blog. I have prints for wall decor, cards, gift tags, and even masculine prints. Here are a few others:
By the way, to the best of my knowledge, understanding and research, none of the bathroom humor phrases or other printables you'll find on this blog are copyrighted materials. All prints were designed by me and are strictly for personal use by subscribers to The Birch Cottage newsletter.
Til next time…
---
Be sure to pin this to your favorite Pinterest board so you can access it anytime or share it with family and friends!