Sharing 14+ flannel sewing project ideas and tips for working with flannel!
Please note that this post contains affiliate links. If you click on a link and make a purchase, I may make a small commission at absolutely no additional cost to you!
I was browsing through my latest JOANN Fabrics
sales flyer when I discovered they have flannel fabric on sale for 50% off this week (August 30 – September 12) in their "Flannelrama" sale. Then, of course, my mind started wandering off to its happy place and thinking about all of the wonderful things I could make using flannel.
I've already sewn Christmas stockings, pumpkin appliqué pillow cover, coasters, mug cozy, burp cloths, baby bibs, hampers, scarves and numerous blankets through the years using flannel fabric. I don't have all those project tutorials ready to share with you, so I decided to do the next best thing and share a collection of 14+ flannel sewing project ideas, plus some tips on working with flannel.
Flannel Project Sewing Ideas
I love flannel and I love sewing with flannel. It just creates such a warm feeling. It's kind of like the comfort food of fabric. So, I've curated a nice assortment of 14 flannel sewing project ideas and I'm also sharing a link to 14 sewing with flannel tips. Be sure to read the tips, as they'll really help your flannel projects turn out so much nicer!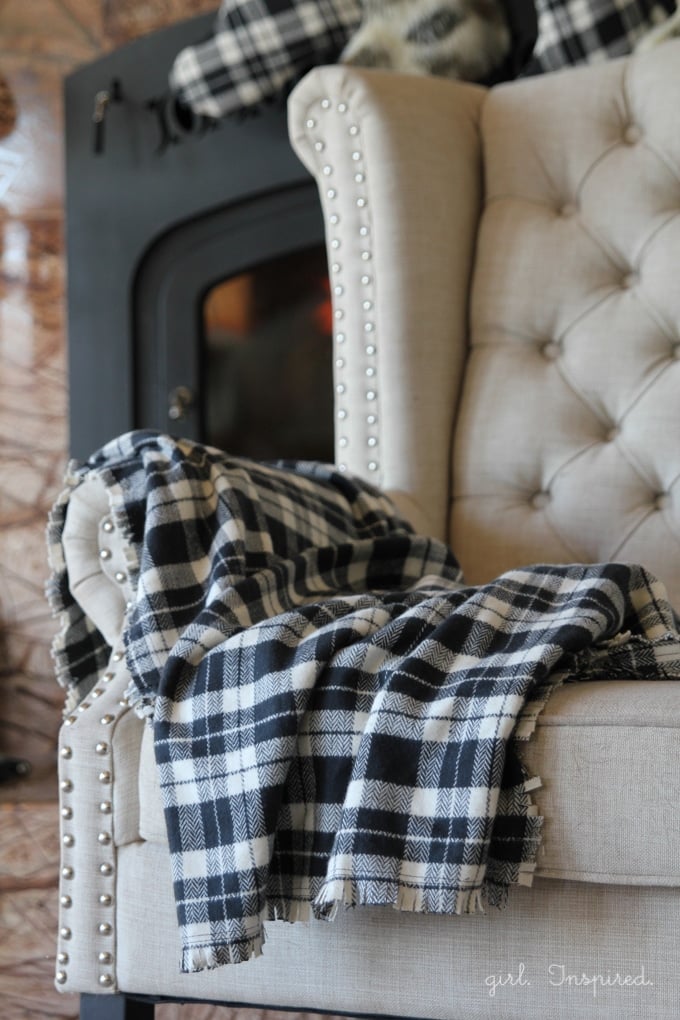 You only need 1-⅔ yds of thick flannel, your sewing machine, thread and scissors to complete this easy to sew flannel fringe blanket. You actually aren't really sewing anything together, just sewing a double border row of stitches. The stitching helps the flannel keep its shape and to keep the fringe from unraveling more.
Find Black and White Buffalo Plaid at JOANN Fabrics.
This is something I've been wanting to try. I love how well my Swiffer Duster works, but I don't like paying for the refills. Certainly, there must be an inexpensive way to make a reusable duster refill, right? My handle is a little different from the one in this tutorial, but at least it gives me directions and hope that a homemade reusable Swiffer duster is a viable possibility!! I'll definitely be adding this to my flannel sewing project list!
Find solid flannel fabric at JOANN Fabrics.
These homemade burp cloths from pre-folded cloth diapers and flannel are kind of my go-to baby shower gift. They're easy to make and so practical. Plus, they work really well. You'll find my tutorial on Kenarry: Ideas for the Home.
Find nursery flannel at JOANN Fabrics.

Another one of my favorite handmade gift ideas for baby and the use of flannel on one side adds not only a layer of softness, but absorption, too! These reversible baby bibs really are easy to sew. You can even use velcro for the closure, buttons or snaps!
Find nursery flannel at JOANN Fabrics.
You can often find patterns on sale at JOANN or Hobby Lobby for $0.99. Right now, JOANN has Simplicity patterns on sale for $1.99 (that's still way better than full price!). Here's a video tutorial showing you just how easy it is to make flannel pajama pants. One more project to add to my flannel sewing project list!
Find snuggle flannel fabric at JOANN Fabrics.
This flannel throw blanket just couldn't possibly get much easier to make. It'll take a little bit of time to hand stitch the blanket stitch around the edge of your blanket, but it will add such a nice finishing touch!
Find plaid flannel fabric at JOANN Fabrics.
Follow this step-by-step tutorial for an easy to make and no sew flannel cape! While you're visiting with Brit & Co., be sure to check out all the fantastic tutorials!
Find plaid flannel fabric at JOANN Fabrics.
There's something warm, rustic and inviting about these flannel coasters. Plus, you could make a whole assortment of them in no time. Bundle them with some twine and a new coffee mug and you've got a great handmade gift idea!
Find plaid flannel fabric at JOANN Fabrics.
I love these handmade flannel hand warmers. In fact, I previously shared this idea as a handmade gift idea for Dad. But, truth be told, these would make a great gift or stocking stuffer for just about everyone on your gift giving list!
Also, be sure to download the free set of hand warmer printable labels here on The Birch Cottage blog!
Find plaid flannel fabric at JOANN Fabrics.
This is a fantastic tutorial on how to make a no sew flannel blanket scarf. There's even instructions on making a narrower scarf and a larger blanket style scarf.
Find plaid flannel fabric at JOANN Fabrics.
If you're a little more adventurous in your sewing, you will definitely want to try your hand at making this DIY Flannel Patchwork Pillow. You'll find this tutorial on JOANN's website.
Find plaid flannel fabric at JOANN Fabrics.
You can purchase flannel fabric for this simple rustic flannel wreath project or repurpose an old flannel shirt.
Find plaid flannel fabric at JOANN Fabrics.
These flannel receiving blankets really do take about 10 minutes to sew. They're super soft, reversible and perfect gifts for moms and moms-to-be.
Find nursery flannel at JOANN Fabrics.
Although this scrappy mug rug tutorial was intended for using up scrap fabric, I just so happen to think it would look beautiful with scraps of flannel, too. I made a few mug rugs as Christmas gifts last year and I plan on making a few more this year.
Find flannel fabric at JOANN Fabrics.
Wondering what to do with all your scraps of flannel and other fabrics? How about making a fabric scrap dog bed? Don't have a dog? You can still make this fabric scrap dog bed and donate the dog bed to a good cause. Watch this video from Missouri Star Quilt Company.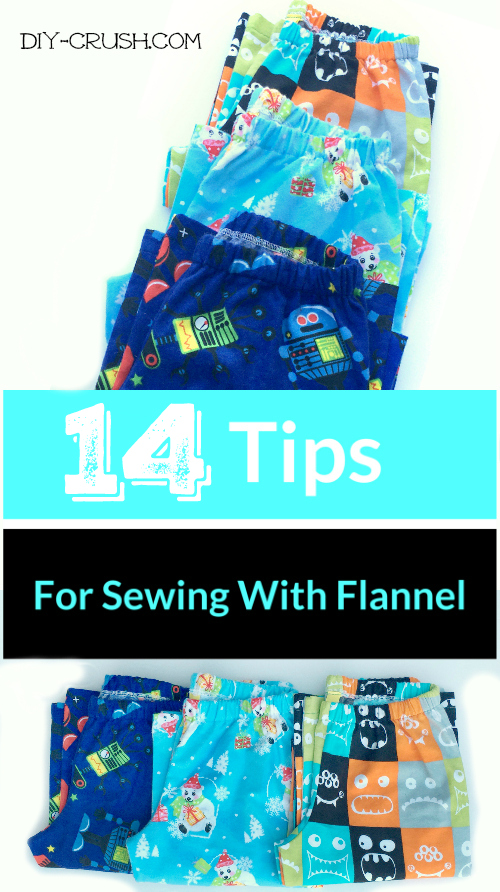 Flannel is a wonderful fabric. But not all flannel fabrics are created equal. This article from DIY Crush does a great job of pointing out a few key tips on sewing and working with flannel.
Printable Care Tags
When you make handmade gifts, it adds an extra touch when you provide instructions on how to care for the handmade item. Which is exactly why I created these printable care tags. These labels are available exclusively for subscribers to The Birch Cottage newsletter. As a subscriber, you'll have unlimited access to the entire Subscribers Resource Library – which is full of all kinds of free printables. You can sign up below:
[newsletter_signup_form id=1]
Once you sign up, you'll receive an email with a link to the library. In fact, there will be a link to the library in every email you receive from me, so you'll never have to worry about how to access your library!
14 Flannel Sewing Project Ideas
There you have 14 flannel sewing project ideas to spark your creativity! I don't know which one I want to try first!! How about you?
Like I said, JOANN has their flannel fabric on sale this week for 50% off. Even when it's not on sale, you can often times find coupons for 50% off or 40% off regular price items. The best way to get their coupons is to subscribe to their mailing list or download the JOANN app. The JOANN app is available in both the Apple store and Google Play.
Til next time…