Before you even say it, let me just say, it's really not too early to start thinking about Christmas. As Lenny and I are preparing for Christmas (uhm, we have seven children, plus spouses, plus grandkids – so we have to plan early), we're making our list of projects to work on. We started a tradition a few years ago where we are trying to simplify our gift giving by incorporating handmade gifts when possible. So, to start off my Christmas season, I thought I'd put together a collection of FREE Christmas printables just for you.
These are just a few of my favorite. You can find even more Christmas printables on my Pinterest page. But, back to this collection of free Christmas printables, let's take a closer look.
What child wouldn't love to receive a Christmas present adorned with "Santa's Special Delivery Printable Gift Tags" from Three Little Monkeys Studio? I mean, these gift tags just scream "Santa Claus"! THE perfect Christmas gift tag the young children or just the young-at-heart.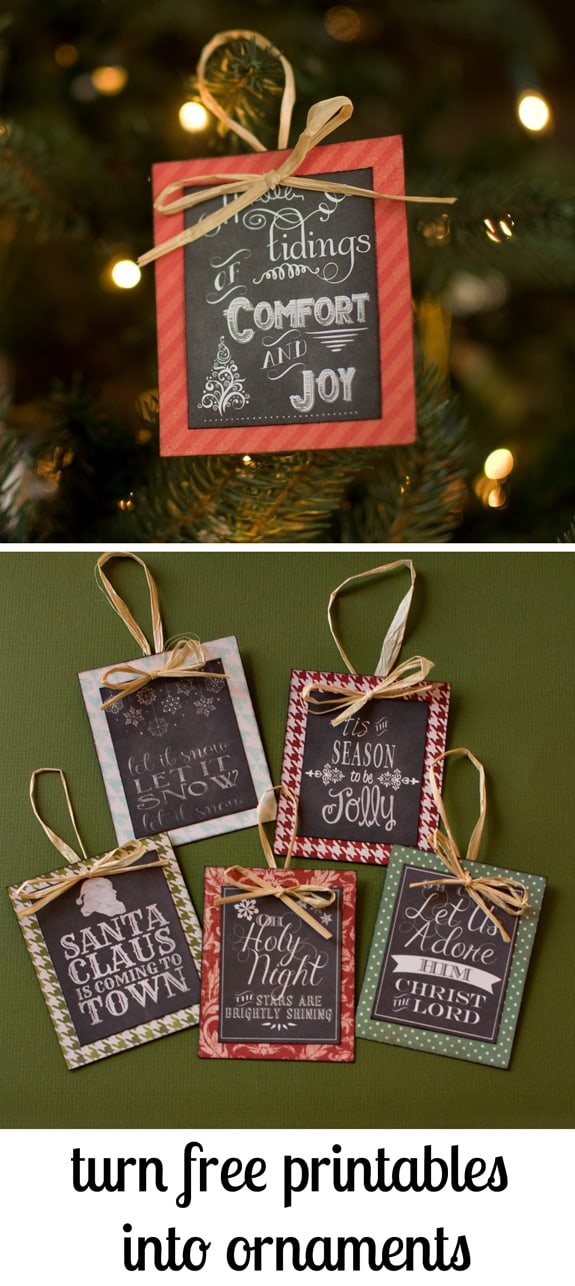 Here's a really Christmas-y idea from Over the Big Moon. You simply take any Christmas printable, shrink it down to size, affix it to some double-sided scrapbook paper and you have some original Christmas tree ornaments. These would also make great gift tags, don't you think?
On Sutton Place has three Christmas printables that are perfect for framing. Just print them out and put them in your favorite frame. Ann has some adorable prints for all seasons, but these Christmas prints are just the perfect combination of chic, whimsy and pure Christmas joy. "Have a Holly Jolly Christmas" is just one of the free downloadable prints in this collection.
When I saw this O Holy Night print from Paper Daisy Design, it brought back childhood memories. When I was a little girl, our Church would have "Christmas pageants" every year. The children would recite Christmas poems, scripture from memory and participate in a play about the news of the birth of the Christ child. Those Christmas pageants are a memory from my childhood that I don't think I'll ever forget. O Holy Night, the stars are brightly shining…. can't you just hear the voices of all the children singing that familiar Christmas song?
I just love chalkboard printables and these Christmas Gift Tags from Lia Griffith are just the perfect gift touch of chalkboard, Christmas and classic design. You can use these Christmas gift tags to label gifts, packages, bottles or homemade goodies.
So, there you have it, five of my favorite Christmas printables for 2015. I've already printed some of these labels for use this year and can't wait to incorporate the rest into my Christmas. What I like most about the printables is the feeling of "homemade". There's just nothing quite like giving or receiving homemade gifts and that includes all the wrappings. Here's hoping you and yours the happiest homemade Christmas!
Til next time…