I recently have fallen in love with the idea of making skillet desserts. You know, those cute little desserts that are baked in a small cast iron skillet and make just enough for two to share? Those little desserts for two that are just oozing with yummy goodness! Yeah, those desserts for two!
Since our son has gone off to college and our youngest daughter is away with the Navy, most of the time there's just my husband and I at home. I often times still cook as though there are 10 of us, but I've gotten better about cooking smaller portions.

I also thought these little desserts for two would make a nice addition to any Valentine's Day dinner, anniversary, birthday or any occasion where you'd like a nice little dessert.
Desserts for Two – Strawberry Rolls
If you're looking for more desserts for two, be sure to checkout the Dessert for Two blog where you'll find this Strawberry Rolls recipe and many more other desserts for two!
Desserts for Two – Deep Dish Hot Fudge Brownie Sundaes
Brownies are one of my favorite desserts. Top the brownies with ice cream and you just may have the perfect dessert. These little Deep Dish Hot Fudge Brownie Sundaes from Chocolate Moosey are perfect for the brownie lovers on your Valentine's list.
Desserts for Two – Apple Crisp
Warm apples with cinnamon and topped with a crumbly pecan topping then baked in a little cast iron skillet, just has comfort food written all over it. Cooking with Curls shares this recipe for Apple Crisp.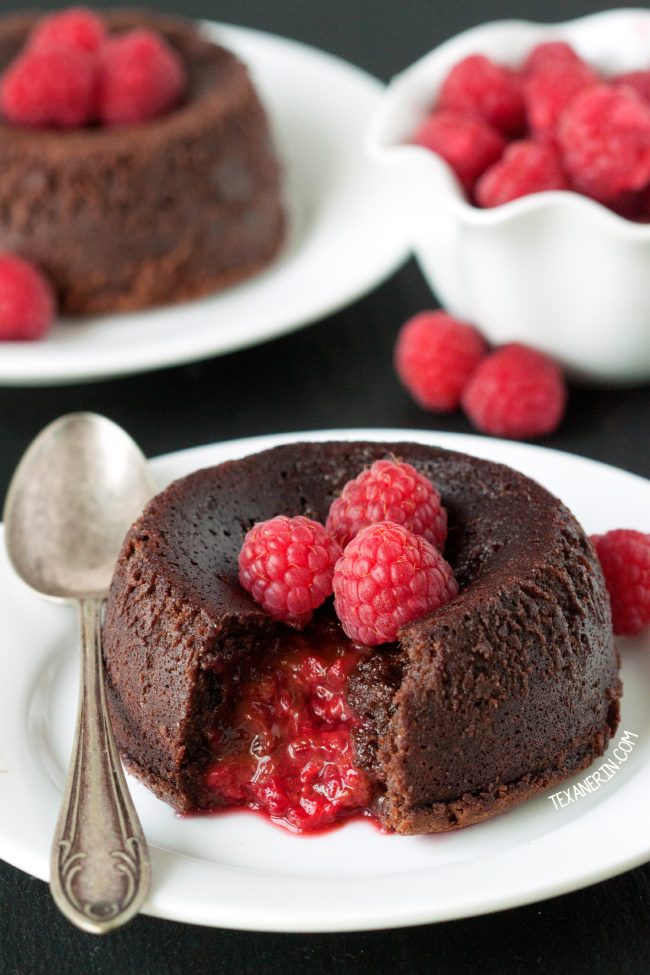 Desserts for Two – Raspberry Molten Lava Cake
There's just something special about raspberries and chocolate. Texan Erin takes raspberries to a whole new dessert level with this Raspberry Molten Lava Cake.
Desserts for Two – Peanut Butter Cup Deep Dish Cookies
Peanut Butter, according to my family, should have its very own food group. Put peanut butter cups in the middle of a warm cookie baked in a skillet and fresh out of oven and you've got these perfect little Peanut Butter Cup Deep Dish Cookies from Design Mom.
Desserts for Two – No Bake Chocolate Cheesecake with Salted Caramel
I'm not a big cheesecake fan, but my daughters love them. They also happen to love chocolate and salted caramel. This is the dessert that makes you feel good about making dessert that's no bake. You can find this No Bake Chocolate Cheesecake with Salted Caramel recipe on Dessert for Two as well. the fact that this is a "no bake" dessert and from Dessert for Two
Desserts for Two – Classic Creme Brulee
From a Chef's Kitchen shares this rich, decadent and classic Creme Brulee for two.
Deserts for Two – Bread Pudding Mugs
Someone please remind me to share this Bread Puddings Mugs for two desserts recipe from Desert for Two with my daughter-in-law because our son loves bread pudding! It seems funny that this young man would be so fond of bread pudding, but he is! Have I mentioned he's a really picky eater?
Desserts for Two – Peanut Butter Cup Cookie Skillet
Did I mention my boys family loves peanut butter? I think I'm gonna have to buy some more cast iron skillets if I'm gonna make all the peanut butter lovers in my family this Peanut Butter Cup Cookie Skillet dessert for two from Home Made Interest.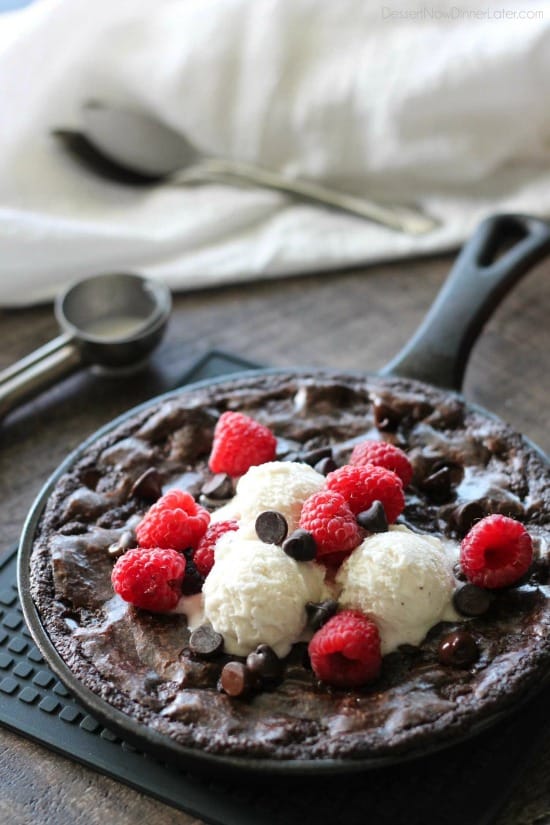 Desserts for Two – Skillet Brownie
I think Dessert Now Dinner Later just might be on to something with this Skillet Brownie recipe. Top a decadent chocolate brownie with chocolate chips, raspberries and ice cream? It just might be a dessert overload (if there is such a thing)!
Desserts for Two – Mini Berry Skillet Cake
This Mini Berry Skillet Cake from Toaster Oven Love is easy to make and filled with yummy berries. Top it off with some ice cream and hot fudge sauce and you've got one fantastic dessert that's just perfect for two!
Desserts for Two – Mini Nutella
I told you my family is crazy about peanut butter; well, they're also crazy about Nutella. Domestic Gothess shares a recipe for Mini Nutella Stuffed Chocolate Chunk Skillet Cookie for Two. Wow!
These are ten recipes that I thought might help you with your Valentine's Day dinner planning. Or maybe you're empty nesters or just starting you family and you don't need/want an entire pan of brownies or entire batch of cookies. Honestly, these desserts for two are perfect anytime and most of them are pretty quick to prepare as well.
Have you tried skillet desserts before? You know, you can use a larger skillet and make bigger batches, but I think these small sizes are perfect for most special occasions and, honestly, anytime you'd like a quick dessert! If you have a favorite skillet dessert recipe, I'd love to hear about it!
Til next time…