Fabric bins are an easy way to add some fun touches to your home storage needs. Following along with this easy to sew fabric bin tutorial!
I love fabric bins, totes, boxes and bags. These storage solutions are such an easy to sew project that even if you're new to sewing, you'll be able to stitch up some fabric bins in no time!
Plus, you can make your fabric bin any size and pretty much any shape. Once you know how to cut and sew a fabric bin, you can make them any size to fit your needs.
An added bonus? These fabric bins also make for fantastic handmade gifts! Especially, if you fill the fabric bin with a few fun items. Have a baby shower to go to, no problem! Sew a fun fabric bin and fill it with diapers, baby powder and homemade burp cloths!
Or maybe you have a sick friend who needs a little cheering up? Fill your fabric bin with some homemade soup, a fleece blanket, a couple of books and some bowl cozies.
Let's get started with this easy sewing tutorial, shall we?!
Easy to Sew Fabric Bin
Like with any sewing project, there are a few supplies and tools you'll want to gather up before you begin this easy to sew fabric bin. This tutorial makes a 8″x8″ fabric bin. You can adjust the cutting dimensions, if you'd like to make a different sized fabric bin.
Let's take a look at the materials you'll need first…
Materials:
*You can use fusible interfacing or fusible fleece with this sewing project. Fusible fleece will make for a sturdier sided fabric bin than one made with fusible interfacing.
Supplies:
Instructions:
Cut your fabric:
Cut 1 27″x17″ piece from your outer fabric.
Cut 1 27″x17″ piece from your liner fabric. *Note: Don't make the mistake I did if you're working with fabric with an obvious one-way design.
Cut 1 27″x17″ piece from your fusible interfacing or fleece.
Sew your fabric bin:
Iron interfacing or fusible fleece onto the wrong side of your main fabric.
Fold main fabric in half, right sides together (your piece will measure 17"x13-1/2"), stitch up each side with a ½" seam allowance.
Fold contrast (liner fabric) in half, right sides together(just like with the main fabric) and stitch up each side with a ½" seam allowance, leaving a 3" opening on one side. You'll use this opening to turn the bucket right side out.
To make boxed corners, with right sides together, pinch each bottom corner open and flatten fabric together, lining up fold with side seam. Measure 4" from top of corner and draw a line across the fabric. Sew across this line. Trim corner to ½". Repeat for each corner and for both the main and contrast fabrics. You will make two on each piece of fabric.
With outer fabric bin wrong side out, slide in the lining fabric, right sides together. Match side seams and pin top edge together. Sew bins together along edge, with a ½" seam allowance.
Using the 3" opening in the liner fabric, turn the bin right side out. Fold in fabric along the seam opening and hand sew closed using a ladder stitch.
Top stitch along top edge of bin. Fold down 2" and press.
More Sewing Ideas
If you love to sew or are looking for more sewing project ideas that also make for great gifts, you might like these ideas from The Birch Cottage:
More Fabric Bins to Sew
I'm definitely not the first person to share a tutorial on how to sew a fabric bin and I'm sure I won't be the last. However, I thought I'd share a few more with you that will help to expand your options.
I love the quilted look of this fabric basket from St. Louis Folk Victorian.
If you've watched any sewing videos or shows on TV, you're probably familiar with Nancy Zieman. As you can tell from the above picture, she incorporates the use of grommets, for a modern touch.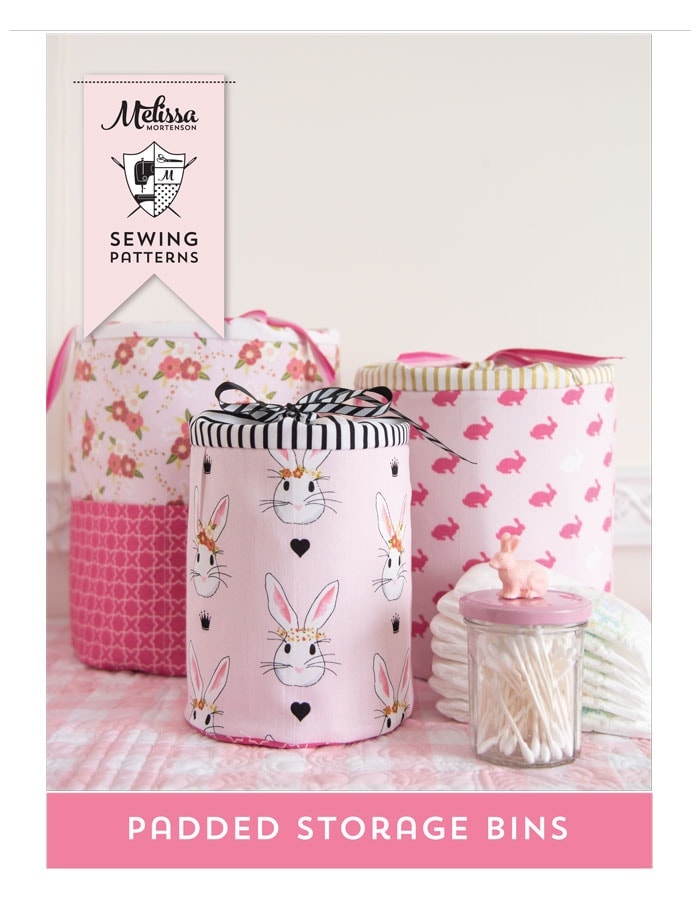 Aren't these padded storage bins from Melissa at Polka Dot Chair just adorable? You do have to purchase this pattern.
I love the way this bin from Birch Organic Fabrics is finished. It's essentially made the same way as I made my fabric bin, except instead of leaving an opening for turning the bin right side out, you simply fold under the top edge and top stitch it closed. Why didn't I think of that?!
Since we're remodeling our kitchen, I'm thinking about making a bunch of these customized to fit my storage needs. What do you think? You can find this tutorial on Pink Penguin.
These fabric bins really are easy to make and it's still early, so you have plenty of time to make some fabric bins for Christmas gift giving!
Share Your Handmade Fabric Bins
If you make these fabric bins, I'd love to hear about it! Just leave me a comment below or tag #ahandmadehome or #thebirchcottage on Instagram so I'll be sure to see your pictures.
But, better yet, come over and join A Handmade Home group on Facebook. You can join in on the conversation and easily share your projects and inspiration with other like minded sewists.
Handmade with Love Care Tags
If you make these fabric bins as gifts, you might want to include a care tag. What's a care tag? A care tag is a simple little card that tells the recipient what materials were used and how to care for their handmade gift. You'll find two versions here on The Birch Cottage blog: a Christmas themed and a floral themed handmade with love care tag.
In addition to the "handmade with love" printable care tags, they also include a "crocheted with love" and a "knitted with love". So, you'll have plenty of options for your handmade gifts!
As with most free printables here on The Birch Cottage blog, these care tags are available exclusively to subscribers. You can subscribe below:
Til next time…