I created a set of printable give thanks gift tags and labels for you that you can use in a variety of ways.
Hello, dear readers! Welcome to another Monday! As we prepare for the Thanksgiving holiday here in the U.S., I wanted to create something special for each of you. Just my way of expressing my gratitude for you taking the time to visit The Birch Cottage blog.
I am grateful for each of you. It is truly my desire that the projects, recipes, tutorials and printables that I share here on The Birch Cottage blog will somehow touch each of your lives in a real and tangible way. The give thanks gift tags and labels that I'm sharing with you today have a lot of possible uses, besides the obvious adornment on a gift!
Here are a few of the ideas I found online that I thought worth sharing with you. Maybe these ideas will inspire you to add a little handmade touch to your Thanksgiving preparations!
Easy Fall Tablescape Idea
If you don't already subscribe to On Sutton Place's newsletter, you're really missing a treat in your Inbox. Be sure to check out her beautiful and easy fall tablescape ideas.
So Thankful For You Gift Tags
Adding a gratitude themed gift tag to a food gift is always a great idea. Just Us Four also shares an easy Paleo Pumpkin Granola recipe from My Suburban Kitchen.
Thanksgiving Gift Idea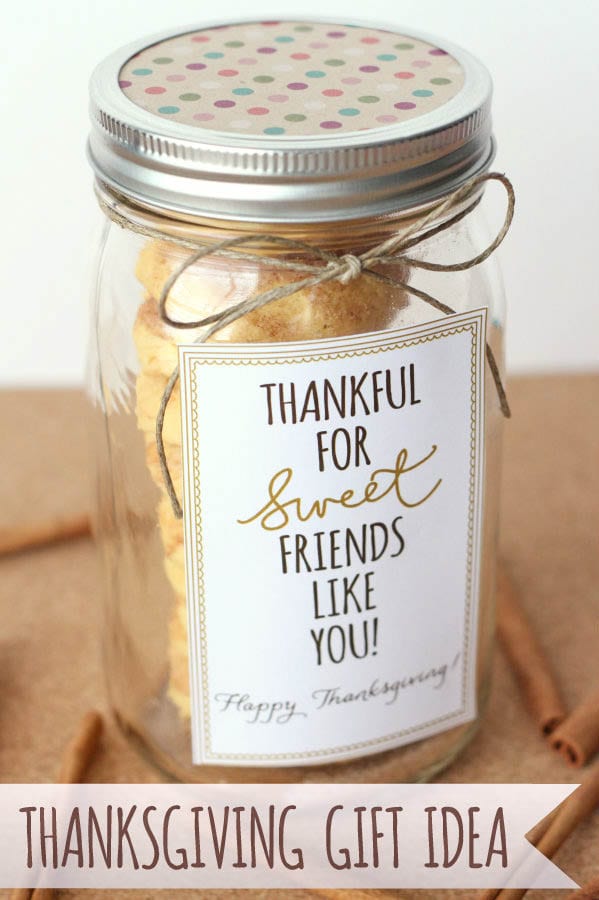 You can affix a label to a jar of homemade goodies, like these Cake Batter Snickerdoodle cookies from Lil Luna.
Fall Pumpkin Tablescape Craft
Attach a Give Thanks or Grateful gift tag to the stem of a pumpkin to add a fun touch of autumn to your tablescape.
Placesetting Tags
I love this idea of using the Give Thanks or Grateful Gift Tags to accentuate you table setting. Roll up a napkin, tie some twine around the napkin, attaching the gift tag and insert a colorful autumn leaf. You can find this idea and more on Finding Home.
How will you incorporate your free printable Give Thanks gift tags and labels?
Give Thanks Gift Tags and Labels
I've created not one, but two different sized gift tags and one two-inch set of labels (that can also be used as gift tags). These gratitude inspired gift tags and labels were created for use with Avery labels. So, creating your printable labels just couldn't be easier for you! Simply download the labels, load the appropriate Avery product in your printer and print. By using the Avery products, you don't have to cut out gift tags, as they come perforated. The labels? Just print, peel and stick!
By the way, this post contains affiliate links to the mentioned Avery products. You can read my full disclosure here. To put it simply, if you click on one of these links and make a purchase, I may make a small commission at absolutely no additional cost to you!
Although I am an Amazon affiliate, this post is not sponsored by Amazon or Avery, for that matter. The opinions are 100% my own. I just happen to love Avery products and their newly improved Design and Print Online service.
Printable Give Thanks Gift Tags for Avery 22848
The Avery 22848 Printable Gift Tags come complete with the strings. The individual labels measure 1-1/4″W x 2″H. I've created printable labels that read "Give Thanks" and "Grateful".
Printable Give Thanks Gift Tags for Avery 22802
These Avery 22802 gift tags are some of my favorite because they are HUGE! They measure 2″W x 3-1/2″H. Again, you'll find gift tags that read, "Give Thanks" and "Grateful" in two different color schemes.
Printable Give Thanks Gift Labels for Avery 22807
The Avery 22807 Labels are two-inch round print-to-edge labels. They just so happen to fit nicely on the lid of a Mason Jar! Although these printable labels are designed for use with Avery's 22807 labels, you can also use them as gift tags. Simply print them on nice card stock paper, cut or punch out the 2-inch round tag, and punch a hole in the top. (I also recommend you use hole protectors.)
Download Give Thinks Printable Gift Tags and Labels
These printable gift tags and labels are a subscriber exclusive. For access to the Subscriber Resource Library here on The Birch Cottage blog, simply subscribe to The Birch Cottage newsletter below:
[newsletter_signup_form id=1]
Once you subscribe, you'll receive a confirmation email with a link to the Subscriber Resource Library. You'll have access to not only these Give Thanks Printable Gift Tags and Labels but ALL the printables stored in the library. Just my little thank you for allowing me to visit with you each week!
Print Give Thanks Printable Gift Tags and Labels
The Give Thanks Gift Tags and Labels have been saved in PDF format. You can open the PDF in your browser by clicking on the link. Or you can download and save the PDF to print later.
Most people know how to use and print a PDF document. If you have any trouble loading or printing your labels, please contact me and I'll see if I can assist you with your printing issues.
How to Print Avery 22807 Labels as "Gift Tags"
As I said, the Round Give Thanks Labels are for use with Avery 22807 print-to-edge labels. However, if you'd like to print them as gift tags instead, here's what I recommend:
Print the Avery 22807 label template on your home printer.
Load the Avery 22807 printed template in your printer.
Print your Give Thanks Labels on the printed template.
By using the template, the circle outline of the gift tag will show and you'll be able to easily cut out the gift tags along the solid circle.
There's a lot of information in this post. I hope I didn't confuse you. I just want to make sure you can easily use the printables that I share here on The Birch Cottage blog. I realize not everyone has an extensive computer background and some of you just know how to do a few things. So, hopefully, this helps!
Although Thanksgiving is just a few weeks away, you still have time to plan, print and enjoy these free printable give thanks gift tags. If you are able to use them, I'd love to hear about it!
Til next time…