Shop at Michaels for craft supplies for great customer service, coupons, discounts and earn rewards for all your crafting purchases.
Although I am a Michaels affiliate, this post contains a true story, completely unsolicited, and the opinions expressed are 100% my own.
That Time we Were "Found" at Michaels
Funny thing happened to my husband and I earlier this year. Back at the very beginning of COVID and before all the stay home orders here in Ohio, my husband and I had gotten up early one Saturday morning and went to the hardware store.
We had no sooner left the house when I realized I had forgotten my cell phone. No big deal. We weren't going to be gone long. My husband had also forgotten his cell phone – which was nothing out of the ordinary. I, on the other hand, rarely leave home without my phone. But, since we weren't going to be gone very long, I decided not to go back home and get my phone.
Second mistake.
Our daughter Morgan lives about 3 miles from us and she stops by and calls us frequently. I actually don't know how we'd get along without all her help. Anyway, she tried to call me that morning. No answer. Then she tried to call her dad. No answer.
So, she hopped in her car and drove to our house. My car was gone but her dad's car was still in the driveway. She went in the house and was affectionately greeted by Remo and Zoey (our two German Shepherd Dogs). But things didn't look right to her.
Third mistake.
The TV was still playing, but no one was home. She walked into the kitchen where she found my cell phone and my water cup both sitting on the island. So, she starts reaching out to her six other siblings to see if anyone had heard from us. No one had.
She began to panic – thinking the worst. Phillip, Morgan and their mom Lora all started making phone calls to local hospitals, emergency rooms, and police stations. Morgan thought for sure that her dad had some kind of medical emergency and we just left the house in such a rush that I didn't grab my phone, water or bother with turning off the TV.
In fact, Morgan drove all over town looking for our vehicle.
Found at Michaels
I was standing at the checkout counter when a local police officer approached me and asked if I was Pamela Baker. I said yes and he asked if he could talk to me for a minute when I was through checking out.
At first, I thought maybe someone had hit our car in the parking lot or maybe our retired police officer friend had put this officer up to something just to mess with my husband. Neither were true.
The officer introduced himself and proceeded to tell us that our children were worried about us because no one had heard from us in three days, their dad has a serious medical condition and it looked like we left the house in a rush. We assured the officer we were fine and that our worried children were just over-reacting. A comedy of errors, so to speak.
The police officer had the dispatch call Morgan and tell her that we were okay and had been found at Michaels.
Back at Home
When we arrived home, I immediately spotted our daughter Morgan's car. She had that look on her face where she was terrified, worried and relieved all at the same time. She walked purposefully towards us and broke down in tears.
We explained to her what happened and although she was relieved, she was not very happy with us. In the end, our kids all had a good laugh and that it was quite appropriate that we were "found at Michaels." I mean, where else would we be?
Why I Shop at Michaels® for Craft Supplies
I realize that was a round about way to talk about why I shop at Michaels for craft supplies, but it's become one of the moments we actually look back at with fondness during the crazy pandemic days of 2020!
Let's talk a moment about why I like to shop at Michaels for all my craft supplies. Before you think I spend a lot of time at Michaels, I don't – not nearly as much time as I would like even. But, I do love a good bargain!
Reason #1: Great Customer Service
I have always had great customer service at Michaels. (Very much unlike some other crafting store that I visit much more frequently because the actually carry fabric.) If I can't find something in the store, I find an associate and they have always been more than willing to help. Sometimes it's a learning opportunity for both of us.
In fact, you can access the Michaels Customer Satisfaction Survey anytime you want to leave your feedback.
Reason #2: Coupons
I can usually find a 20% off regular price coupon at Michaels. I use this coupon when there's something special I want to purchase that isn't on sale. And you're sure to find great prices when items are on sale. My advice: shop early. Another hint: check the home page on your computer. You'll often see little bonus 25% off coupons just waiting for you to take advantage of them!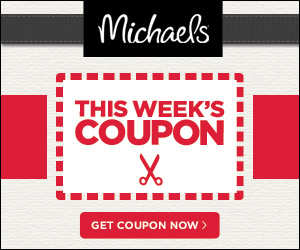 Reason #3: Discounts
Michaels offers discounts for teachers, military and seniors. These programs are easy to enroll in and can save you 10-15% off your purchases every time you shop at Michaels. You can read all about the Michaels discount policies here.
Military Discount
Michaels also offers a 15% military discount for:
Active Duty
Reservist/National Guard
Veteran
Registered Dependent
CLICK HERE to sign up for the Military Discount program at Michaels!
Teacher Discount
I didn't even realize until recently that I hadn't actually signed up for the teacher discount at Michaels. Teacher discounts are available for:
All teachers, staff and faculty Pre-K through Post-Grad within the US.
Teachers who work in daycare centers, early childhood learning centers and home schools.
Instructors/Teachers of After School Programs, Boys & Girls Clubs, etc.
Sign up to save 15% every single time you shop at Michaels.
CLICK HERE to sign up for the Teacher Discount program at Michaels!
Senior Discount
Anyone aged 55 or older qualifies for the Senior Discount at Michaels. All you have to do is sign up. Of course, you'll be asked to provide verification, such as a copy of your driver's license or birth certificate that shows your full age and date of birth. Save 10% every single time you shop!
CLICK HERE to sign up for the Senior Discount program at Michaels!
Reason #4 Rewards
Not only does Michaels offer great customer service, a wide selection of crafting products, coupons, sales and discount programs, but they also have a Rewards program that actually pays you for shopping at Michaels.
CLICK HERE to learn more or sign up for the Michaels Rewards program.
What I DON'T Shop at Michaels For
There's really only one reason I don't shop at Michaels for all my crafting needs. And, for me, it's a pretty big reason. Sewing. Well, to be more specific, fabric. Although you can find some hand sewing needles, embroidery thread and basic sewing supplies or notions in the store, you're not gonna find sewing supplies like:
Well, you get the picture. You can, however, find some fabrics online. Not a great selection, but some. So, not having a nice fabric selection complete with all the notions is a BIG HUGE ENORMOUS reason for me to tend to shop elsewhere.
However, if you like to decorate, paint, craft, make jewelry, crochet/knit, hand embroider, wood burning or paper craft, you'll more than likely find what you need at Michaels with a great price, coupons, discounts and they actually reward you for shopping.
I kind of get the feeling that Michaels wants to do business with me. They actually want me to shop with them and they make it painless for me to do so. A company that actually makes it convenient and rewards me for shopping with them? Amazing!
Craft Ideas
If you enjoy crafting, you might like these ideas from The Birch Cottage blog:
Thank you, Michaels, for setting an example and being customer focused. Now, if we could just get that fabric crafting store to do the same! Or, better yet, maybe Michaels would consider expanding into offering sewing supplies and fabric in their brick and mortar stores? Great idea, Pam!
Til next time…