Learn how to make the BEST fitted fabric face mask with your Cricut Maker. Patterns are available in five sizes in Cricut Access.
Searching for the Perfect Fabric Face Mask Pattern
I can't even tell you how many different patterns exactly that I have made or tried since we first heard about COVID-19. In fact, I was frantically trying to find the PERFECT fabric face mask pattern.
It was so very frustrating as I couldn't even get good or accurate information on homemade face masks. It's kind of ironic now, but the CDC initially was discouraging people from using fabric or homemade face masks. Now, they sing a different tune.
But, the struggle to find the perfect fabric or homemade face mask is real! If you're reading this blog post, you probably know exactly what I'm talking about. I wish healthcare professionals or the powers that be would simply say, "make them like this" or "these are the most effective".
I think that part of the issue is that the healthcare industry in the US has snubbed their noses for so long at the mere idea of us mere mortals making our own fabric face masks, that they really hadn't stop to consider they might be a good idea.
[sigh]
Should You Make Pleated or Fitted Face Masks?
I think any face covering is better than no face covering when it comes to helping to prevent the spread of germs like the coronavirus. Like I said, however, I think the different types of face masks, especially when you're talking about fitted versus pleated, each have their appropriate application.
These are my thoughts:
use less fabric than fitted fabric face masks
are quick and easy to produce
are one-size fits-all
great for mass producing
can add an optional filter
can add an optional metal nose piece
the use of "closed loop" elastic makes donning and doffing much easier (putting on and taking off)
Fitted Fabric Face Masks
take a little more fabric to make than pleated masks
are quick and easy to produce
are sized to fit (one size does NOT fit all)
can add an optional filter
can add an optional metal nose piece
the use of "closed loop" elastic makes donning and doffing much easier (putting on and taking off)
Summary
What it comes down to in deciding whether to sew pleated face masks or fitted, there really are just a few things to consider:
Are you making a lot of masks for a lot of people? Make the pleated masks.
Are you making masks for specific people or your immediate family? Make the fitted masks.
Of course, if you're making masks for a specific charity, healthcare facility, etc. you'll want to follow whatever specifications or needs they have.
Video Review: Using Cricut Maker to Make a Fitted Face Mask
Here's a video where I talk about the fitted face mask pattern available for both the Cricut Maker and Cricut Explore on Cricut Access. Like I said before, you can decide to cut out your fabric with the Maker or simply cut out a reusable pattern. I tried both.
Make the BEST Fitted Fabric Face Mask with Your Cricut Maker®
As you may have read when I shared my pleated fabric face mask pattern, I have spent a lot of time researching fabric face masks, making patterns and trying every pattern I could find. I took an "idea" I had for a face mask pattern and revised it a number of times.
I finally decided on pleated fabric face masks, because at the time, I was kind of in the mass producing phase. I was sewing masks for my family, extended family, neighbors and friends. But, now that we've been wearing them every day for weeks now and it's looking like COVID-19 isn't going away any time soon, I've changed my fabric face mask focus from pleated to fitted.
Why Make Fitted Fabric Face Masks?
Why fitted? Quite simply, because they fit better (if sized properly) and provide better protection against the spread of germs, like COVID-19.
So many Fitted Face Mask Patterns!
So, I tried making my own fitted face mask pattern. Then I tried a few I found online, like the ones here, here, here and here (to name a few). And although I really liked the pattern from 409 Mask Makers, I decided to check out the pattern I found on Cricut.
Cricut Maker Fitted Face Mask Patterns
A few weeks ago, my husband bought me a new Cricut Maker and I've hardly used it - until now! I decided to try to cut fabric with my new Maker. It worked amazingly well!
Then I decided to try cutting out one of their fabric face masks. THE MAKER CUT OUT THE FABRIC FACE MASK PATTERN FLAWLESSLY!!
Now I was really curious. Since I had such a flawless pattern to work with, why not sew up the face mask and see how it fits. So, I followed the instructions from Cricut and sewed up a fitted fabric face mask. I even added a metal piece to the nose, for even better fit.
I was quite honestly elated and stunned. Elated to find a pattern for a fabric face mask that fit so well. And stunned because I really didn't expect the face mask to fit any better than any of the others I tried.
Cricut Fitted Face Mask Pattern Casings
One of the things I love about this pattern from Cricut besides the amazing fit is the use of casings for the drawstrings or elastic.
Cricut Fitted Face Mask Pattern Filter Pocket
The other feature I love about the pattern from Cricut is the filter pocket. I've tried making numerous filter pockets numerous ways and having the filter pocket on the sides (like the Cricut pattern) or at the top seam or bottom seam of the face mask is best.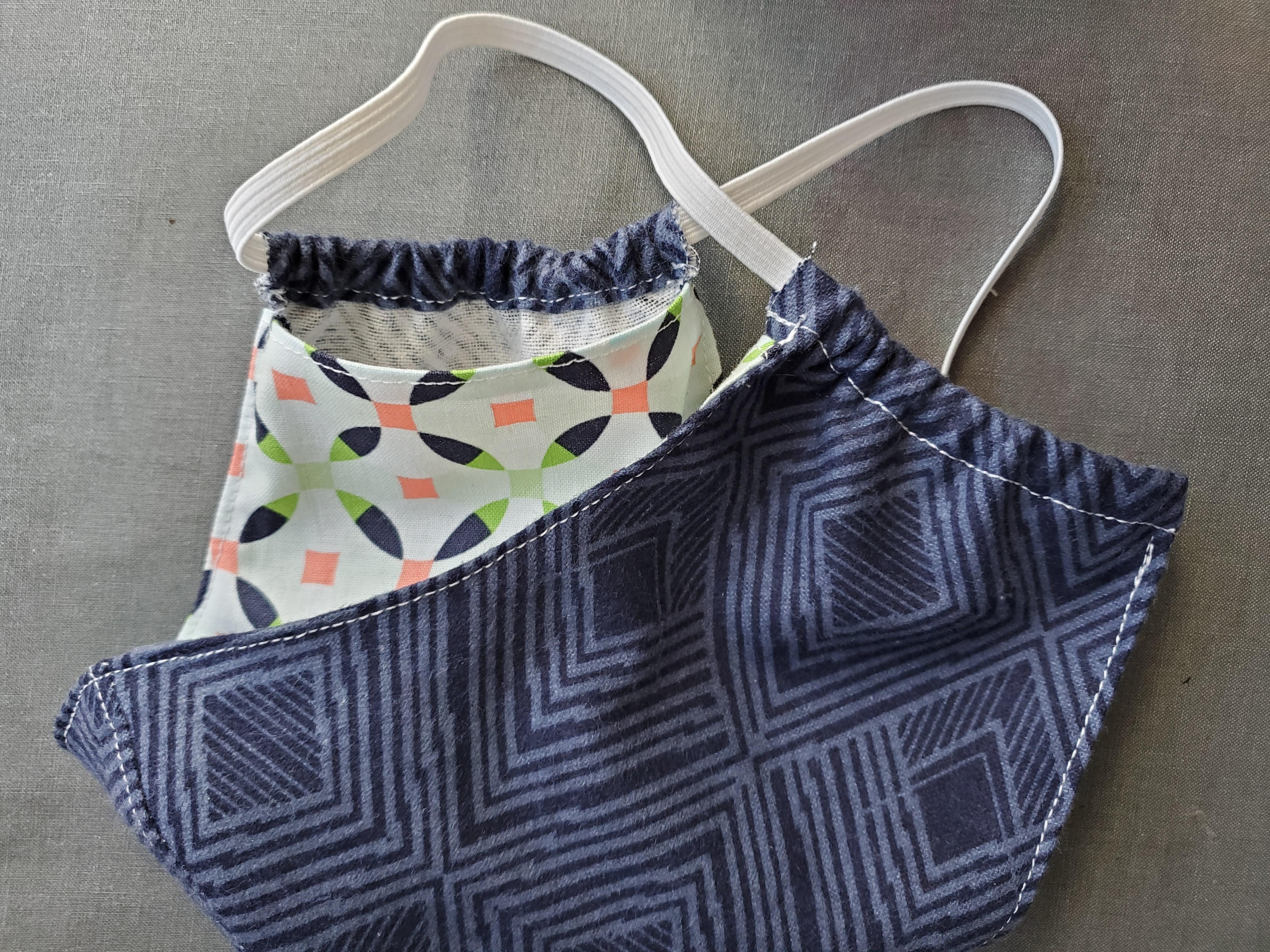 I tried making the back of the face mask sort of like an envelope pillow cover where the ends overlap in the middle of the face mask. This adds bulk and an annoyance from where the seem rubs against your face or lip. It seemed like a good idea at the time, but with frequent use, I've found I very much dislike the filter opening being in the middle of the face mask.
Supplies Needed
If you'd like ot use your Cricut Maker to cut fabric or patterns for fabric face masks, there are a few supplies you'll need:
cotton fabric for face mask front: 8"x16"
cotton fabric for face mask back: 8"x16"
1/4" elastic or bias tape for drawstring :

For adult x-large: 22"
For adult large: 20"
For adult small/medium: 18"
For youth large: 16"
For youth small/medium: 15"

wire for nose piece (optional): 4"
Instructions
You will find a complete set of printable instructions in Cricut Access, as well as on their blog HERE. Here's my overview:
Step One: Cut Out Pattern
WITHOUT A CRICUT MAKER:
If you don't have a Cricut Maker, don't worry! Cricut also has a PDF version of their pattern that you can download, print, cut out and then trace onto your fabric.
If you don't have a Cricut, you can download the printable face mask patterns here:
WITH A CRICUT MAKER:
You will load your FabricGrip Mat twice.
Mat 1: Place the 8" x 16" piece of main (outer) fabric right side down onto the mat with the grain running the length of the mat.
Mat 2: Place the 8" x 16" piece of contrast (liner) fabric right side down onto the mat with the grain running the length of the mat.
Follow the prompts in Cricut Design Space.
Step Two: Stitch Center Seams
With the two outer fabric pieces right sides together, stitch a 1/4" seam along the curved edge.
Repeat with the contrast (liner) fabric.
Step Three: Hem Liner
Fold the short edge (sides) of the liner fabric over to the wrong side 1/4" and press. Repeat for the other edge. Stitch both edges in place.
Step Four: Make Casings
Fold the short edge (sides) of the outer fabric over to the wrong side 1/4". Fold again about 1/2". Press and stitch close to the edge. This will be the casing for the elastic or drawstring.
Step Five: Top Stitch Center Seams
Take the outer fabric and finger press the seam to one side. Top stitch close to the center seam.
Repeat with the liner fabric. Making sure the seams are laying on opposite sides of the center seam when you put the two pieces together. In other words, if you press and stitch the outer fabric to the right of the center seam, be sure to do the same with the inner fabric. So that when you line the two pieces up wrong sides together, the seam allowances will lay on opposite sides of the center seam.
Step Six: Stitch Mask Together
Stitch Top Seam
Lay the outer and inner mask pieces right sides together, matching center seams. Pin or clip in place. Stitch along the TOP of the mask, making sure to not stitch across the casing opening. So, start and stop the stitching with the edge of the liner fabric.
Stitch Bottom Seam
Repeat with the bottom of the mask. Trim seams and clip curves, if necessary. Turn mask right side out and press flat.
Wire Nose Piece
If you are going to insert a wire nose piece, now is the time.
Cut a 4" piece of wire and be sure to bend the ends so you don't have any sharp edges pointing through the mask.
If you haven't already, press the seam along the top of the face mask. This will make it easier to place the wire.
Insert wire so that it is centered over the center seam and up close to the top seam of the mask. I placed my wire next to the front of the fabric and so that the seam allowances and lining fabric are under the wire. Pin the wire in place.
CAREFULLY stitch around the wire. Start at the top of the face mask, just to the left edge of the wire. Make a few stitches down, rotate your fabric, stitch across the length of the wire and again rotate the fabric to stitch up the opposite edge of the wire.
Step Seven: Add Elastic or Drawstring
If using elastic, you may be able to simply feed the elastic through the casing. If not, attach a safety pin to the edge of the elastic and feed it through. Start with the top of the casing on one edge and they across to the bottom of the casing on the other edge. Overlap elastic ends and use a zig-zag stitch to stitch together.
Follow the same procedure for drawstring only you will not be stitching the ends together. You'll find the recommended cuts for elastic and drawstring up above.
Place a filter through the side openings, if desired.
Your fitted face mask is now ready to wear or gift!
SPOILER ALERT!
THIS FITTED FABRIC FACE MASK FROM CRICUT FITS BEST OF ANY FABRIC FACE MASK PATTERN I HAVE MADE OR TRIED. I think you'll be pleased, too.
If you have questions about the Fitted Fabric Face Mask Pattern from Cricut, just leave me a comment below and I'll be glad to try to answer it. If you give this pattern a try, I'd love to hear from you as well.
Til next time...